We will continue to responsibly balance conservation practices and community beautification for the duration of the State's water crisis and into the future. Beyond turning off irrigation on our grass medians, the City has begun a multi-year project to remove and replace all remaining grass areas in our medians. This will not happen overnight, and we thank you for your patience. As always, we value your thoughts and ideas. Please feel free to email the City Council at CityCouncil@santa-clarita.com.
Here are some ways your City is working with the SCV Family of Water Suppliers to reduce our water use: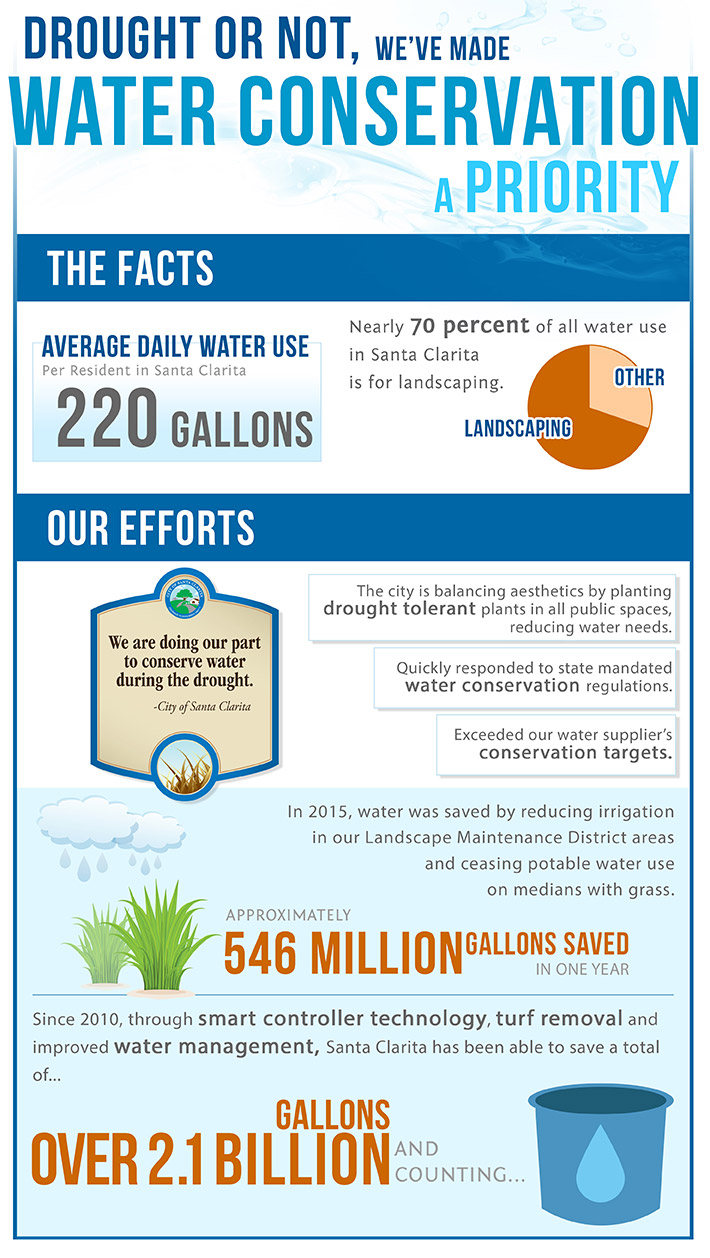 ---

By order of the Governor! State Mandates to reduce water use will impact Santa Clarita. Here are some ways your City is working with the SCV Family of Water Suppliers to reduce our water use: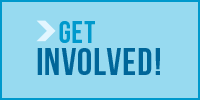 ---
City Medians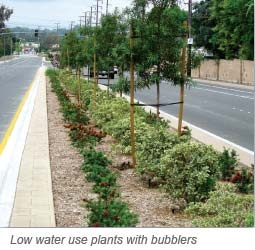 You may be surprised to learn that our City maintains 46 miles of landscaped medians throughout the City. Approximately 13 miles of those medians encompassing 412,000 square feet of grass, roughly the equivalent to nine football fields, include some amount of water-thirsty grass. As a result of the Governor's order effective May 2015, the City has shut off water to every grass median.
While the grass on the medians will no longer receive water, all the trees in the medians, as well as the low-water use plants, will be watered using drip or "bubbler" irrigation.
Bubblers, which are largely present throughout our medians, provide a significantly more efficient way of directing small streams of water to support our plants and trees. The City's smart controllers in our medians tell the bubblers when to turn on and turn off. They are able to measure the atmospheric conditions, temperature and humidity to calculate exactly how much water a plant needs so as not to over-water.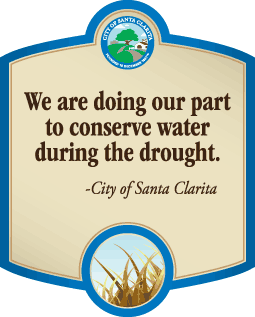 The City is developing a plan to remove all the remaining grass in City-controlled medians. This is a time-consuming endeavor and will be completed in phases.  The City has already removed the grass on Wiley Canyon Road, Lost Canyon Road and portions of Magic Mountain Parkway. The next phase of this program is already underway on Valencia Boulevard between Tourney Road and Magic Mountain Parkway. The removal of grass along Valencia Boulevard will save more than 120,000 gallons of water annually.
---
City Parks & Trails
The City continues to monitor water use within the City park system.  Many of the turf reduction areas from last year's audit remain and additional areas are being evaluated.  Many new turf growing technics are also being evaluated in an attempt to reduce water use during field renovations.   Parks staff continues to renovate sports fields which include the planting of drought resistant Bermuda grass.  Irrigation efficiency are monitored by a team of trained staff that are making adjustments and repairs daily.  Bark mulch from tree chippings continues to be used to reduce weeds, increase ground moisture retention and beautify areas where turf has been removed.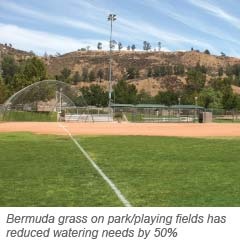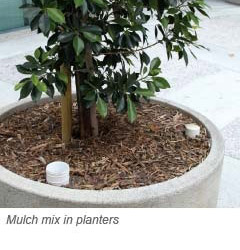 ---
City Facilities
The City is in the process of designing plans to remove the grass at City Hall, the Transit Maintenance Facility and the Corporate Yard. The City will be replacing the grass with water-efficient plant materials and mulch ground cover. Work at City Hall has begun, with efforts at our other facilities expected to begin later this year.
Smart controllers used by the City save
more than 330 million gallons of water annually.
Toilets and urinal fixtures at City facilities will be replaced to comply with the California Green code water conservation requirements so that they are water-efficient. Metrolink stations and the Old Town Newhall Library have already received new fixtures. The City is continuing work on the Valencia and Canyon Country library, as well as the Corporate Yard and City Hall.
Decorative water fountains at City facilities have been turned off. The City has decorative fountains at City Hall, the Santa Clarita Sports Complex, the Santa Clarita and Newhall Metrolink stations, and the Old Town Newhall Library.
The fountains have been drained and turned off but maintenance will continue so that debris is regularly cleaned out of the empty fountains.
---